SAREK AND AMANDA'S PICTURES AND LINKS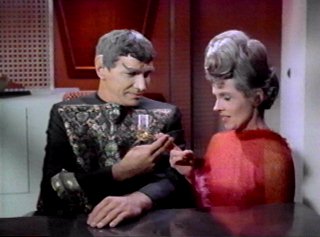 Welcome to Sarek and Amanda's place. There are pictures, stories and links that deal with Vulcan's favourite First Couple. Enter and relax among friends!
---
WHY DO THIS?
---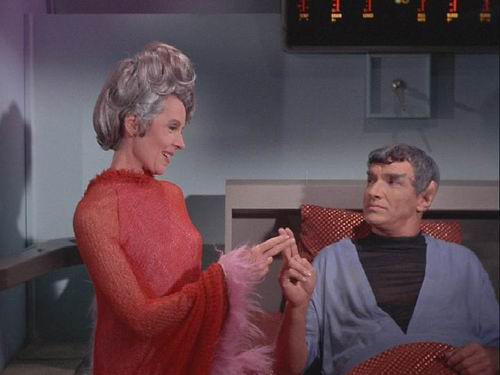 WHY DO THIS?
Sarek is my favourite character in the Star Trek universe. I wanted a place to showcase my plethora of Sarek pictures, so pull up a chair, and let me pour you a glass of wine. Relax and enjoy these pictures and links about Vulcan's First Family.


---
CONTEMPT OF COUNCIL By Selek
What did Sarek and Amanda feel when they heard about the death of their son?
REMINISCINGBy Selek
The story of how Sarek and Amanda first met and their disasterous first date.
MANDY By Steve Wilson
McCoy goes back in time and meets the girl of his dreams...but is she already taken?
INTERVIEW BETWEEN SAREK AND GENE RODDENBERRY Transcribed by Dr. Maggie
A conversation between Gene Roddenberry and Ambassador Sarek. The wave file of this discussion is here.
GETTING TO KNOW YOU - SAREK By Selek
A question and Answer session with Sarek.
A FAMILY HOLIDAY SURPRISE By T'Lea, Saidicam, and Selek
Eight-year-old Spock travels to Earth and spends his first Christmas with the Grayson family.
SPOCK'S SUPERBOWL PARTY By T'Lea.
Not really a Sarek story, although he is mentioned, it's a little fun to commemorate the Superbowl. Spock throws his first Superbowl party for his friends.
VULCAN PHYSIOLOGYBy Selek
An article from the Star Fleet Medical Reference Manual
SAREK'S FLITTER By Selek
If Sarek built a flitter, why is Kirk driving it?
INTERVIEW WITH THE LENARD FAMILY written by Linda Paulsen
An interview with members of the Lenard family
INTERVIEW WITH THE UNKNOWN PATIENT
Ann Lenard talks about her husband with another multiple myeloma patient
IT'S ALL RELATIVE by Selek, Saidicam, and T'Lea
Sarek puts his family second behind his negotiations and it turns out that his family is key to the mission's success.
---
Sarek and the Baby Spock
Sarek arriving on the Enterprise for the first time
Kirk greeting Sarek in the shuttlebay
Sarek and Amanda by a Jeffries Tube
"I prefer another guide, Captain"
Sarek talking to Gav at Reception aboard the Enterprise
Sarek getting yelled at by Kirk
Sarek talking to Gav (off screen)
Sarek, Amanda, and Kirk at the reception
Sarek coming to get Amanda at the Reception
Sarek explaining his position to Gav
Sarek taking his heart medicine
Sarek collapsing in his quarters
Kirk talking to Sarek in Sickbay
It seemed the logical thing to do
---
Sarek just after he entered Kirk's apartment
Sarek questioning Kirk as to why he left Spock on Genesis
Why did you leave him on Genesis?
Sarek listening to Kirk's explanation of why he left Spock on Genesis
It is the Vulcan way when the body's end is near
Sarek viewing Engineering Log visual
One alive, one not, yet both in pain
Sarek watching the Bird of Prey arriving
"My logic is uncertain where my son is concerned"
Sarek concentrating at the Fal-tor-pan
Sarek waiting for Spock after Fal-tor-pan
Sarek and Dr. Chapel waiting outside Council Chambers
Klingon justice is a unique point of view
Do you have the right to commit murder?
Perhaps we should send out a planetary distress signal
Sarek before taking his leave of Spock
Sarek taking his leave of Spock in the Council Chambers
Do you have a message for your mother?
Another picture of Sarek in STIV
Sarek in President's Office (closeup)
Sarek in President's Office with others
Sarek performing ta'al at Kitomer
Sarek watches McCoy arrest Nanclus
Sarek leads Vulcan delegation in clapping
---
Sarek in TNG's "Sarek" (close up)
Sarek arrives on board the Enterprise
Sarek is not pleased with conference room
Sarek and Perrin arrive for the Mozart concert
Sarek and Picard at the Mozart Concert
I assure you I am in perfect health
Your efforts will no longer be required!
I am a logical being. Present your argument.
Sarek listening to Picard in his quarters
Picard proposes to meld with Sarek
Sarek immediately after the meld
Sarek and Number One outside conference room
Sarek saying farewell to Picard onboard the Enterprise
Picard and Perrin in Sarek's bedroom
Perrin getting Sarek's attention
Sarek talking to Picard in Unification
Picard taking his leave from Sarek
---
Sarek, Amanda, and Spock after the Fal-tor-pan
Sarek and Amanda after the Fal-tor-pan
Sarek, Spock and Amanda after the Fal-tor-pan
Amanda between her favourite Vulcans
Sarek, Spock and Valeris after Kitomer
---
Mark and Jane Wyatt
Mark and Ann Lenard at the Edmonton Convention (1991)
Mark at the Edmonton Convention (1991)
Mark speaking to fans - Edmonton Convention (1991)
Mark lecturing to fans at the Edmonton Convention (1991)
Mark cutting the cake at the Edmonton Convention (1991)
Mark and Susan Sakkett cutting cake at the Edmonton Convention (1991)
Mark dishing out cake at the Edmonton Convention (1991)
---
PICTURES TAKEN AT THE STAR TREK EXPERIENCE
Top part of Sarek's robe with a Vulcan ka'athyra
Bottom part of Sarek's robe with T'Lar's headdress
These are the links to my favourite web pages.
---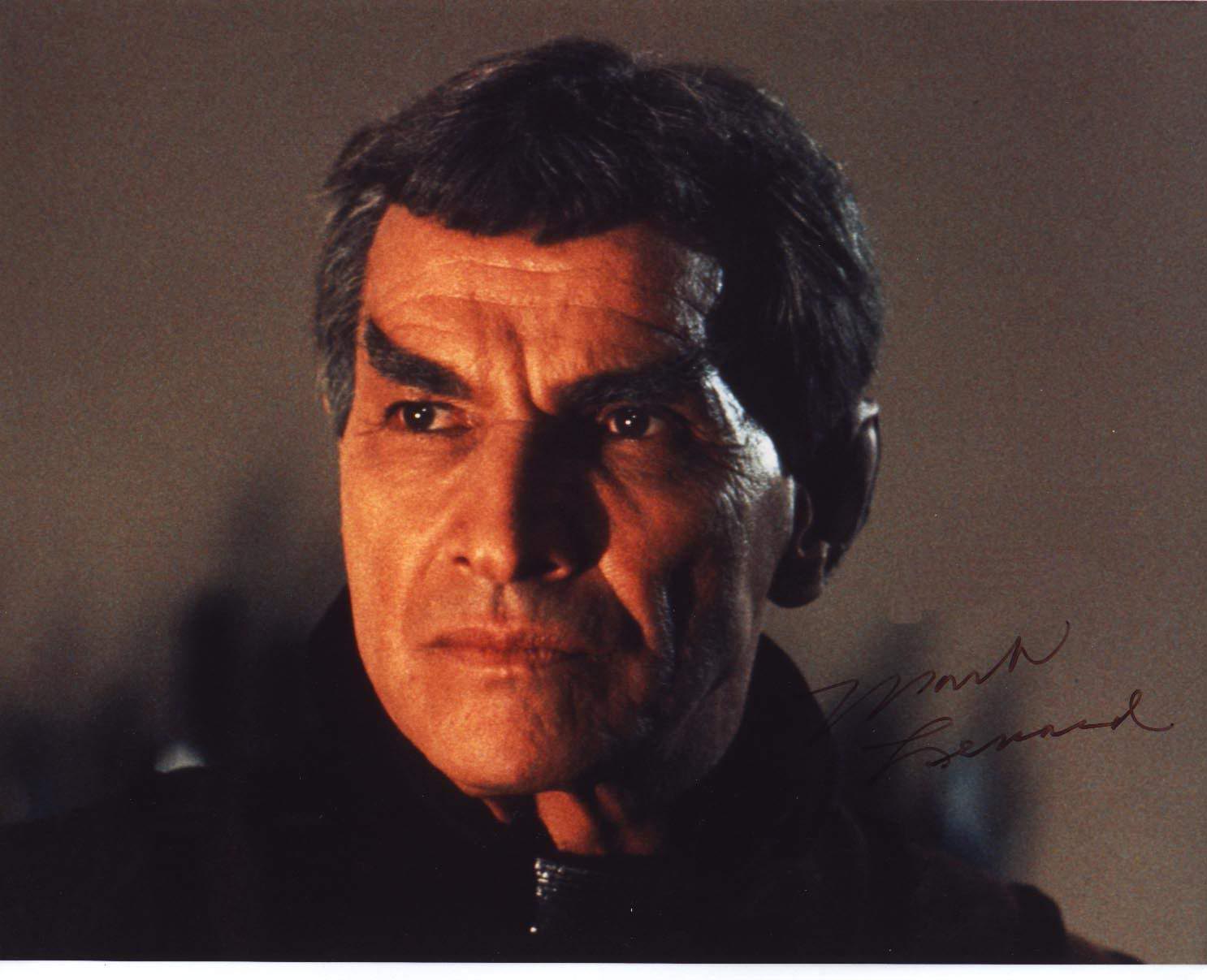 SAREK LINKS
Sarek and Amanda's Story Archive -
the official archive of the Sarek and Amanda Yahoo group
Sarek and Amanda's Photo Gallery - tons of wonderful photos of Sarek, Amanda, and the actors that brought them to life
DISPATCH, THE - Ruth Berman still has issues of THE DISPATCH available which are publications of the Mark Lenard Fan Club. She published them for three years at $6/year. Articles and fiction on Sarek and the Romulan Commander are featured. She reprinted the three years' worth as one volume ($12/copy) and it is edited by Maureen Bourns, its founder. This reprint is mostly complete, but omits a few items available elsewhere or not dealing with either Mark Lenard or Star Trek. Also featured are "Here Come the Brides" and visits to the set, as well as Sarek and the RomulanCommander.
If you are interested, please contact Ruth at either Ruth Berman, 2809 Drew Ave S, Minneapolis MN 55416, or e-mail her

Sheryl's Star Trek Page - awesome Sarek pictures

Mark Lenard Webpage - a new website that features photos, articles by his daughter and much, much more!
Praxis - Memorial Page - Mark Lenard - interview with Mark Lenard's son in law.
Unknown Patient interview with Ann Lenard - interview between another multiple myeloma patient and Mrs. Lenard
Filmography of Mark Lenard -just what the title says
---
Vulcan Language Institute - another dialect of the Vulcan language
Vulcan Language Dictionary - compiled by me, it is a merging of the VLI, Marketa's site, as well as Star Trek episodes and movies. It was put online by Birgit and her husband.
---
Sarek National Park = yes, there is such a thing and it's found in Sweden!
---

You can contact me with feedback and comments.